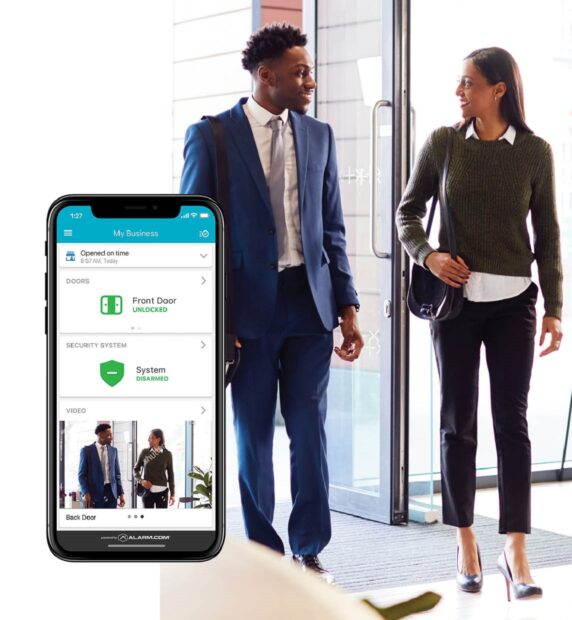 OneBusiness Security
Keep an eye on your business with continuous video monitoring and intelligence that works 24/7.
• Live HD continuous recording
• 24/7 professional monitoring options
• Suspicious activity alerts
• Arm and disarm the system remotely
• Set automated arming schedules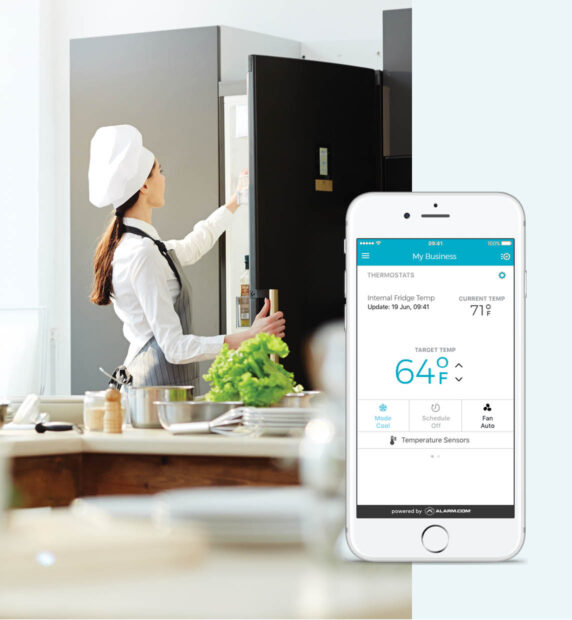 Energy Management
Save money and stay comfortable with automated energy management.
• Control lights and thermostats remotely
• Set lighting schedules
• Alerts for thermostat changes
• Notifications if the refrigerator is left open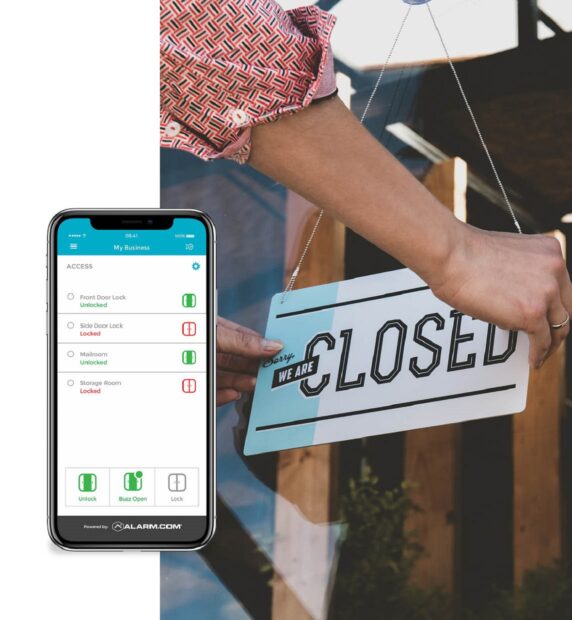 Access Control
Easily manage multiple access points, remotely lock or unlock doors and monitor your business activity.
• Remotely lock and unlock doors
• Employee and visitor access codes
• Entry and exit notifications
• Customized access schedules
• Set automated locking schedules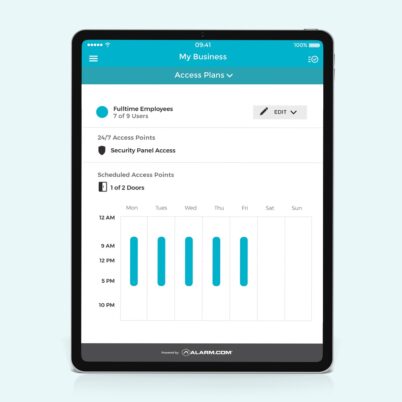 Business Insights
Optimize operational efficiencies with insight into your daily business activities.
• See who armed or disarmed the system
• Notifications when business is opened/closed
• Alerts if business is opened late
• Identify peak periods of customer traffic
• Manage multiple locations from a single app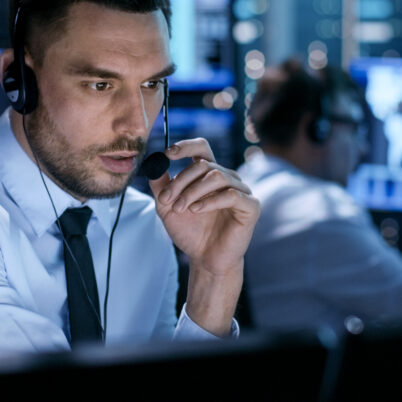 Professional Monitoring
Keep your business protected with professionally monitored Security. During a security event;
• Receive notification of alarm event
• System sends signal to monitoring station
• Certified professional contacts you
• Authorities dispatched as needed
A Day With OneBusiness Security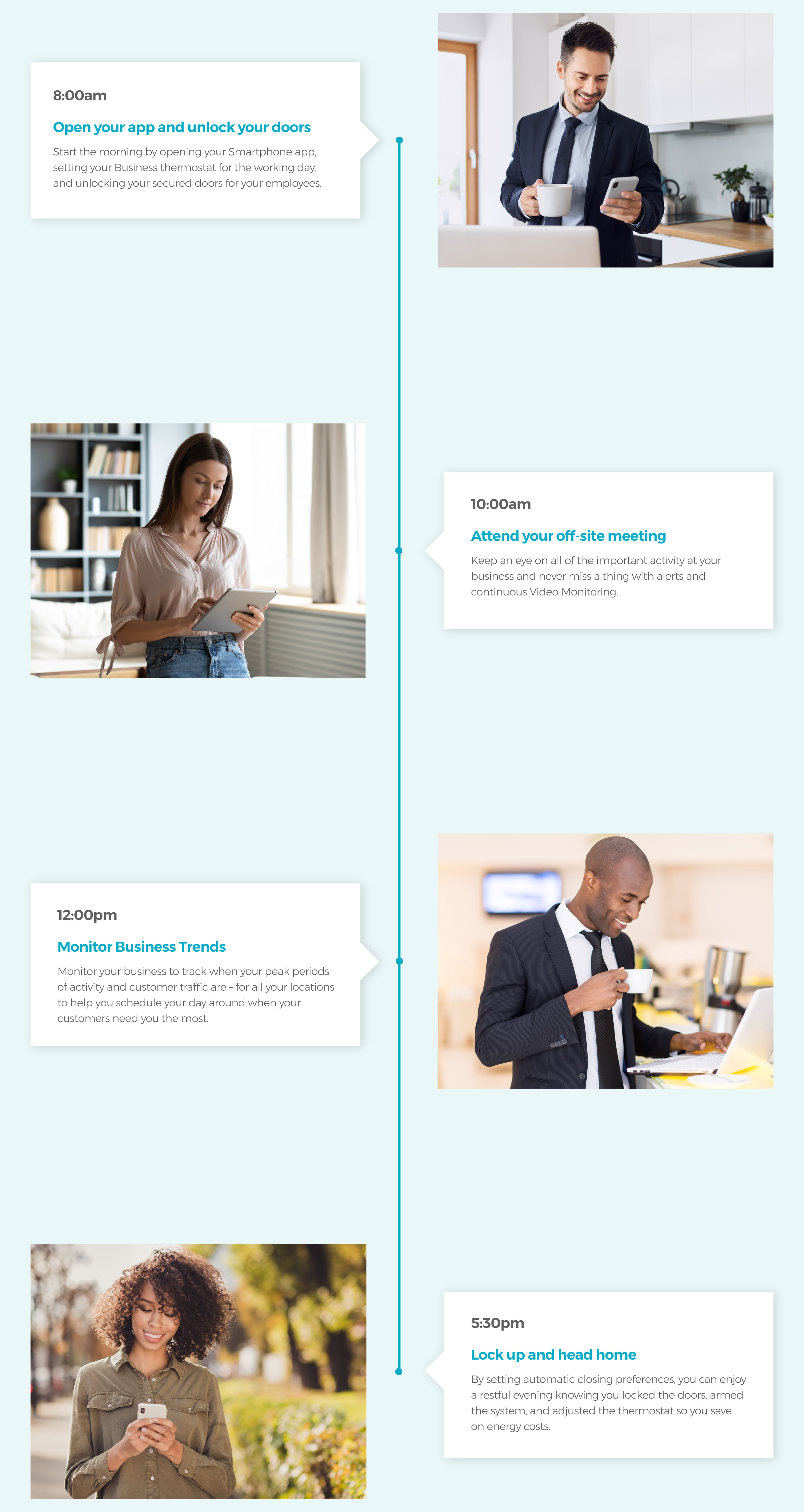 OneBusiness Security is the Smart Choice
Location-Based Geo Services
Geo-Services respond based on your location. Have your thermostat automatically adjust when you leave the office, or get a reminder if you or an employee forget to lock a door.
Reliable and Secure
Using the most reliable and secure communications and advanced tamper-resistant technology, you can rest assured your business will stay protected.
Dedicated Cellular Connection
Your system will continue to communicate even if the phone or line is cut or the power is out.
Continuous Recording
Capture 24×7 HD continuous recording or cloud-based storage, and system health monitoring to notify you if your camera stops working.
Control Through Single Intuitive App
Control it all from your mobile devices. Whether you're at your business or on the go. Conveniently cancel a false alarm or verify a real one from anywhere, avoiding unnecessary trips to your business to clear an alarm.
Easy to Set Up
Download the Alarm.com App to view and control your system from the palm of your hand with the easy-to-navigate Dashboard. Arm and Disarm your panel, adjust lights, locks and thermostats.