NextOne Program
The best way to upgrade to your next NEW device at the lowest price, including Smartphones, TV, Laptops and iPads.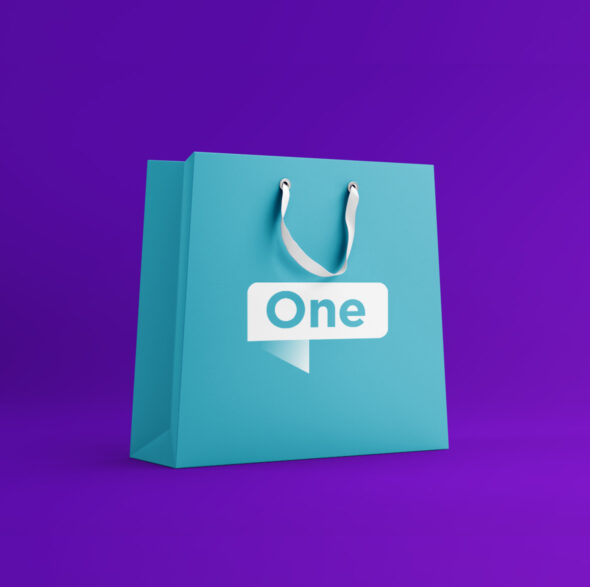 About NextOne
Purchase a new Smartphone on one of our Smartphone Plans, or subscribe to any of our FibreWire Home Bundles or Smart Internet Plans to get amazing NextOne discounts, without a fixed-term contract.
This program was designed to give you the flexibility to upgrade your devices whenever you choose. Your NextOne discount becomes a balance that decreases over 24 or 36 months with discounts up to $2000.
The chart below depicts how the NextOne balance depletes over time.
Scroll just a little further past the graph where we explain the program in greater detail.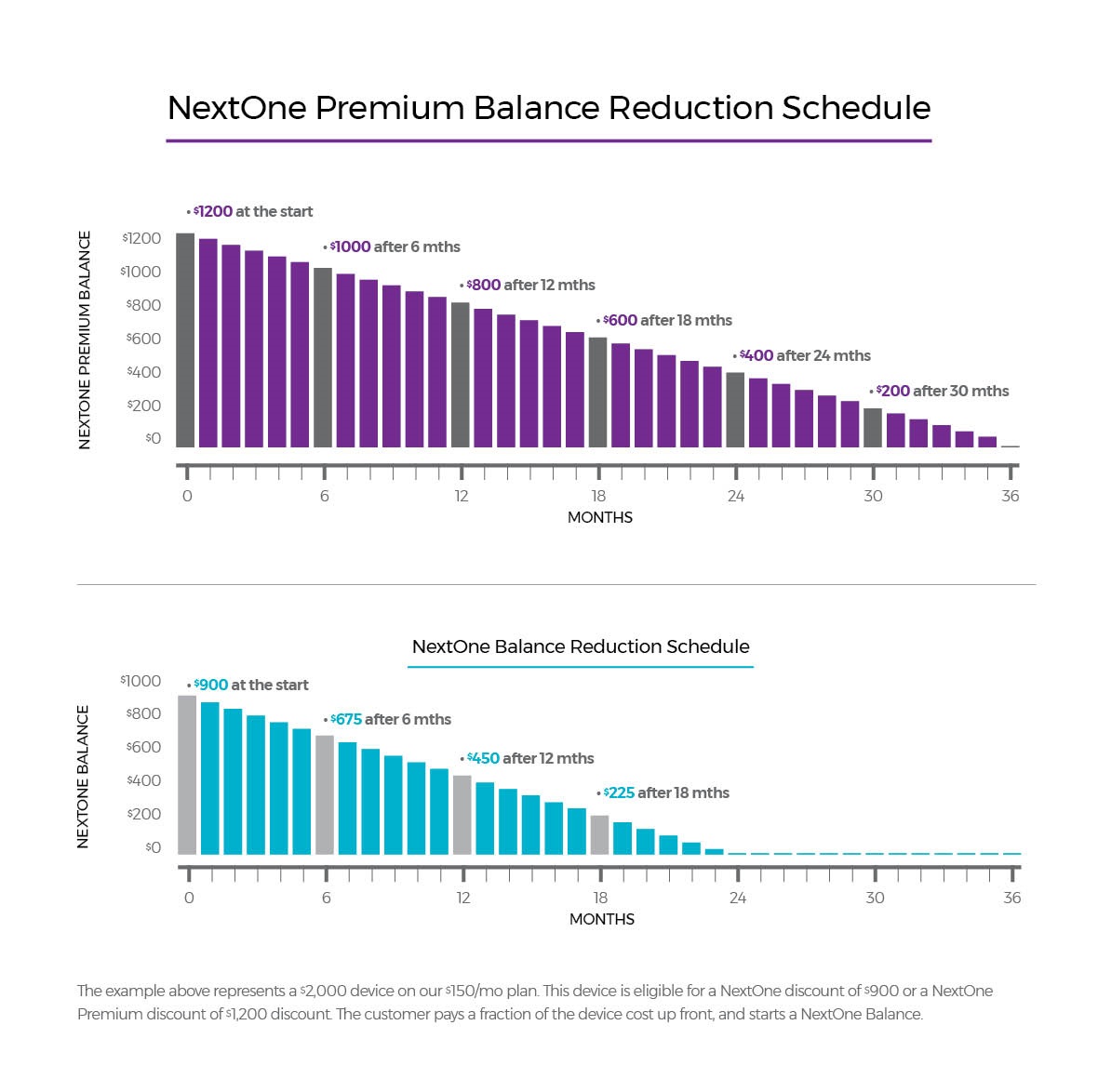 NextOne FAQ
How do I know the device I wish to purchase is available with NextOne?
Smartphones purchased with any of our Smartphone Plans automatically come with NextOne pricing options. Plan details with their respective discounts can be found here.
TV purchases through Sound Decision, our approved vendor, may be eligible for a NextOne discount when subscribing to select plans. Plans are subject to change as we continue to add value to our NextOne Device Purchase Program.
How is the NextOne balance calculated?
The NextOne balance decreases from its original amount to $0 over 24 or 36 active, paid months. The remaining balance is simply the original balance minus the amount the balance has decreased to over time. This amount is calculated like this:
Smartphone with NextOne E.g.
You purchase a new $1,200 Smartphone on the NextOne program, then choose the 6GB LTE Smartphone Plan which comes with up to $500 off the device. The customer pays $700 up-front for the phone and starts a $500 NextOne balance.
Original NextOne Balance: $500
E.g. 1) Balance after 12 active, paid months = $500 – ($500/24 * 12) = $250 (this is the balance at 12 months)
E.g. 2) Balance after 18 active, paid months = $500 – ($500/24 * 18) = $125 (this is the balance at 18 months)
If you would like to upgrade to a new Smartphone at 18 months, you can get another Smartphone and only pay the remaining $125 NextOne Balance. NextOne is the best way to get the latest devices, more often, at a great price.
TV with NextOne E.g.
You purchase a new $2,000 TV on the NextOne program. With select TV packages, you may access $1,000 off the retails price. The up-front cost to you is $1,000 and starts a $1,000 NextOne balance = $2,000 (the full retail value of the TV).
Original Balance: $1,000
E.g. 1) Balance after 12 active, paid months = $1,000 – ($1,000 /24 * 12) = $500 (this is the balance at 12 months)
E.g. 2) Balance after 18 active, paid months = $1,000 – ($1,000 /24 * 18) = $250 (this is the balance at 18 months)
When can I upgrade to a new Smartphone?
With the NextOne program, device upgrades can happen at any time. Simply pay off the remaining NextOne balance, if any, and purchase a new device on the NextOne program.
What happens if I need to cancel my service?
If you need to cancel your service with One at any time, for whatever reason, the remaining NextOne balance can be paid off to clear your account. This balance will have been reducing every month since it began, so as time goes on it will become less and less. This balance will appear on your final invoice.
What happens if I downgrade my plan?
If you decide to downgrade to a plan that is eligible for a lesser NextOne device discount, the difference between the two discounts will be added to your invoice the following month. The difference between discount levels decreases over time just like the NextOne balance itself.
Smartphone with NextOne E.g.
A customer signs up on a 30GB LTE Smartphone Plan which can save up to $1,000 on any device. The customer chooses a Smartphone with a Retail Value of $850. On the NextOne program, they pay $0 up front, and their NextOne balance starts at $850 (the full retail price of the phone)
After 12 months their NextOne balance has reduced to $425 and they decide to downgrade to the 10GB LTE Smartphone Plan, which is eligible for $650 in device savings rather than $1000.
The customer must pay the difference in remaining NextOne Balance: $425 (half of $850) – $325 (half of $650) = $100. The customer pays $100 for downgrading to a lower plan, and their new NextOne balance is $325.
The same process applies to TV purchases with NextOne.
I don't see the NextOne balance on my invoice, why not?
We are working to have these features added to your invoice. In the meantime, you can visit any retail location or phone our call centre at any time to find out your NextOne balance. Our Customer Care number is 700.7000.
Do I need a credit card to sign up?
Yes, we need to have a valid credit card on record. Please bring a valid credit card and ID to make any postpaid related purchases. The name on the valid ID must match the name on the credit card.