Send These Four Travel Worries Packing, with Smart Home Security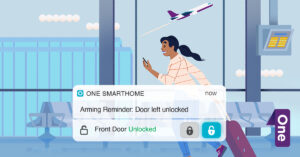 As you pack your bags and head to the airport you start to think about all the things you may have forgotten.
I closed the front door, right? Did I leave a window open? Will our pet-sitter visit every morning and evening as arranged?
There's no leaving these worries behind – but you can make them go away.
Smart home security allows you to take care of things at home and enjoy your vacation more. Next time you travel, all you need is your phone – plus the One SmartHome app – to stop these four worries in their tracks:
Home Security Worries
With One SmartHome technology protecting your home, you don't have to wonder if you closed and locked the front door, or turned the alarm on. If you forgot, One SmartHome lets you know – and there's no need to turn around and miss your flight.

You'll also enjoy the certainty of professional security monitoring: an essential safeguard for travelers. If a burglar targets your home, One SmartHome alerts the central monitoring station who will call you and your emergency contact list and contact authorities as required.
Pet Worries
Will your pet-sitter remember to visit? How will you know? And what if they can't get in?

No worries: just set your sitter up with a temporary One SmartHome user code. This code unlocks your door and can generate a confirmation alert when your sitter uses it. Should they lose the code, you can always unlock the door with your phone.If you're wondering how your pets are doing (or just missing them), our indoor security cameras make it easy to check-in and say hello.
House Worries
When you're home, small problems with your house are easy to spot and deal with. Leave home for a week, though, and a tiny leak in your washing machine hose can become a flood, and an open window can cause you're a/c to run at full steam for 168 hours.

With One SmartHome standing guard, you can worry less. Water sensors let you know if you need to call an emergency plumber, a smart thermostat can set itself back until the window is closed or turned off remotely, and if your smoke detectors are activated, your monitoring station will know what to do.
Too-much-information worries
Is there such a thing as too much information about what's happening at home? We think so – especially when you're enjoying time away. You need to know if someone appears in your yard, but you don't need the interruption of a video alert every time a cat wanders through. It's why we offer smarter, customizable security alerts, with intelligent analytics that filter out the stuff you don't need to see.
Want to travel without worries?
Relax and enjoy life's journey while One SmartHome takes care of things at home.
Want to get connected before you leave? Choose your One SmartHome plan today.